HANNOVER – elfo joins the conversation at Hannover Messe as the iconic German-based exhibition returns in 2021 with various industrial and political leaders after its cancellation in 2020. With over 90,000 participants and 1,800 exhibitors joining internationally, this year's exhibition returned in a hybrid format to discuss the central theme of "Industrial Transformation."
Rose Maria Bague and Oliver Willian Laoh from elfo's Digital Sales & Marketing team, with support from MATRADE, dipped into the world of manufacturing industries to see how elfo's performance-driven platforms and solutions could assist corporations in achieving their business needs in an increasingly digital world.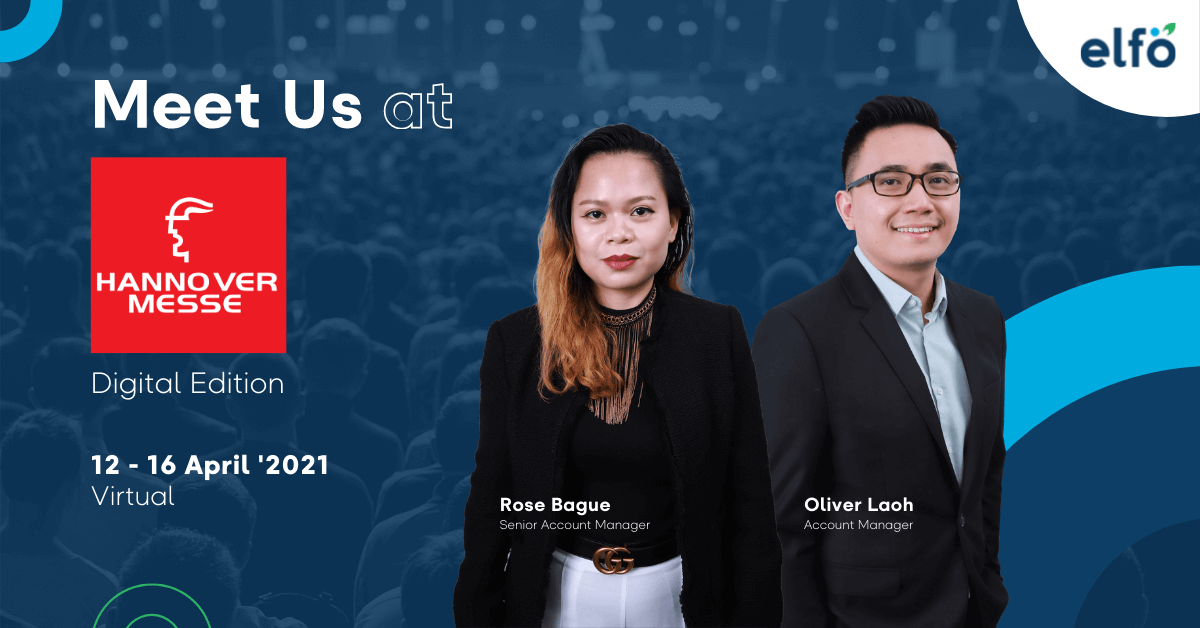 Despite the conference being scheduled in Germany's time zone (GMT +2), the team attended a variety of sessions that explored discussions of industrial transformation, digitalization, AI learning, and even topics such as career development for women. With the networking opportunities, elfo was able to connect with potential clients from consulting, international trade, and engineering industries in the United States, France, Germany, India, Indonesia, and more.
"We are grateful that MATRADE highlighted this event, as elfo had the opportunity to participate in the event with global leaders such as German Chancellor Angela Merkel and the President of the Republic of Indonesia, Joko Widodo," said Sri Yosephin, Head of elfo. "In our current climate, many companies and events have had to onboard themselves to new digital platforms. elfo is looking forward to help these businesses embrace change to continue innovating in a fast-moving world."
In 2020, elfo also attended both in-person and virtual events like Europe 2020 GCCM and MyAPEC2020, signaling its commitment to continue connecting with clients and partners from all over the world.
###
About elfo
elfo is a marketing and advertising technology (MAdTech) company that offers integrated performance-based marketing for business through its range of products and services. Since its inception, elfo has helped brands achieve digital marketing goals by driving conversions through innovative products, ad platform technology, and strategic digital marketing management. elfo's range of products provides solutions for email automation, messaging solutions, landing page builder, etc.
As of 2021, elfo has connected to over 200 exclusive partners worldwide including mobile network operators, content providers, government agencies, and enterprises.
For more information, please visit elfo corporate website at elfo.com.  
Follow elfo on LinkedIn, Instagram, Facebook, and YouTube.  
Media Contacts:   
elfo Press Bureau   
[email protected]   
+603 2781 8468