KUALA LUMPUR — Mimpikita introduces a fresh spin to its brand, by elevating its digital advertising and performance marketing initiatives through the appointment of elfo.
Founded by three sisters – Nurul, Amirah, and Syahira Zulkifli – the Malaysian modest fashion label, which most recently announced a collaboration with Disney, has handed the Kuala Lumpur-based digital solutions provider branding, digital advertising, and performance marketing remit. The appointment is slated to be for a one-year period.
"As a modest fashion label that has been in the industry for more than 12 years, Mimpikita's influence and its bespoke ready-to-wear pieces have its own loyal style cult," said Rose Maria Bague, Senior Account Manager at elfo. "What we can bring to the table is our expertise in helping brands and businesses establish a solid brand identity and increase overall share of voice (SOV), by providing Mimpikita with brand consulting, performance optimization across all of its digital channels, and lead-generation campaigns."
With proven results for clients in a multitude of industries – from beauty to healthcare, from education to automotive – elfo will be executing year-long bite-sized campaigns for Mimpikita to streamline and amplify its brand identity, as well as to align with the modest fashion label's goals to be inclusive and provide meaningful experiences to its community of #KitaGirls.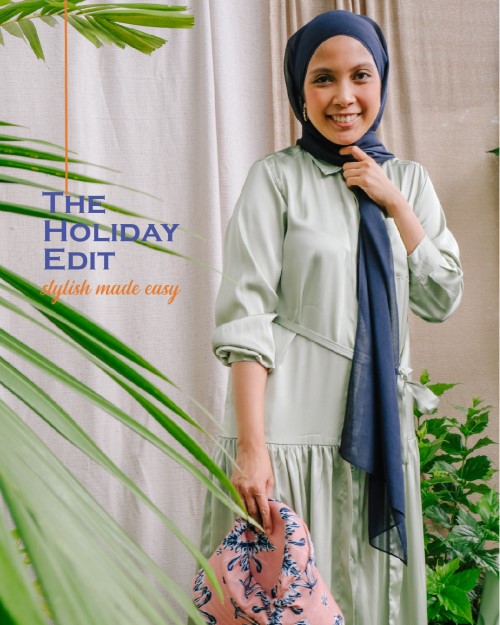 Nurul Zulkifli, one-third of the Mimpikita founders, in the modest fashion label's Holiday Edit collection, which digital ad campaign was executed by elfo.
Apart from that, elfo will be running campaigns hand-in-hand with Mimpikita's planned collections for the year. The campaigns, which will be deployed across all digital touchpoints – website, social media, email, conversational bot – are expected to build and uplift a Mimpikita community built on inclusivity, empowerment, and universal acceptance.
"Style icons and most women familiar with the local fashion scene are no strangers to the Mimpikita name, given the label's regular appearances at Kuala Lumpur Fashion Week and intimate collaborations with other local designers," explained Sri Yosephin, Head of elfo. "Our service offerings for Mimpikita are part of a bigger plan for this modest fashion label to go global. Besides harnessing our digital marketing expertise, we are also utilizing elfo's proprietary digital platforms such as elfoMAP (an email marketing automation platform), elfoA2P (an application-to-person messaging platform), and soon, elfoBOT (an intuitive chatbot), to complement and enable our strategic campaigns for Mimpikita."
For Mimpikita, elfo's ad platform technology and innovative marketing campaigns are tailor made to the fashion label's vision for its brand.
"It's important to us that Mimpikita, wherever we go and however we progress, that we stay true to our values that our #KitaGirls community have come to love and appreciate," expressed Nurul. "As we continue to evolve and expand with the help of elfo, designing carefully crafted pieces for the everyday woman will still be at the heart of Mimpikita. Our wish is to build an inclusive community, to inspire women all over the world with our casualwear."
###
About elfo (as of February 2021) 
elfo is a martech company that offers integrated performance-based marketing for business through its range of products and services. Since its inception, elfo has helped brands achieve digital marketing goals by driving conversions through innovative products, ad platform technology, and strategic digital marketing management. elfo's range of products provides solutions for email automation, messaging solutions, landing page builder, etc.  
As of 2021, elfo has connected with over 200 exclusive partners worldwide including mobile network operators, content providers, government agencies, and enterprises.  
For more information, please visit elfo's corporate website at elfo.com. Follow elfo on LinkedIn, Instagram, Facebook, and YouTube.
Media Contacts: 
elfo Press Bureau 
C-5-1, Megan Avenue 2, Jalan Yap Kwan Seng,
Kuala Lumpur, 50450, Malaysia. 
+603 2781 8468
[email protected]