Using email marketing to onboard new customers is a simple process. It simply needs a little more effort and thought than standard email marketing. It's simple to develop and even A/B test your campaign once you've decided on the topics and method you'll use. If you've read this far, it's likely because you haven't yet created an onboarding campaign or are unsure if you are.
In any case, this article will hopefully clarify your doubts and persuade you to move beyond using a simple autoresponder for your welcome email campaigns.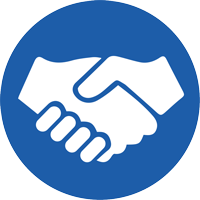 Why onboard new customers?
First and foremost. So, let's get to the bottom of the Why? Whether you employ a series of welcome emails or in-app marketing communication, onboarding campaigns are beneficial for a variety of reasons.
Here are a few examples:
They can help you describe the benefits of using your product or service, as well as the issues that it can solve.
You'll be able to answer inquiries and alleviate any concerns your consumers may have.
You can persuade them to use your platform or service and hook them right away.
They're fantastic at building rapport and defining the tone of a conversation.
They can help you set expectations for the next communication and the frequency with which it will be delivered.
Onboarding campaigns are also an excellent approach to learn more about your members. Discovering their preferences and aims from the start can help you develop a long-term relationship and maintain a high CLV.
How to welcome your subscribers the right way
These are the some of the most popular marketing tactics in welcome messages. They frequently begin the conversation with one of the following:
Welcome and thanks for signing up.
Here's your free gift.
Here's our best content.
What do you want to know?
Whitelisting instructions.
These are some ideas you could consider when developing your own email program. One thing that should be mentioned here is that your welcome messages should also include a way for people to contact you. You could do this by adding your phone number, a link to the "Contact us" page, direct email address to the account manager or a sales representative, functioning reply-to address, or links to social media. Anything else that you believe is important should also be included. For instance, the fact that you offer free next-day delivery or that you have a satisfaction guarantee program. Another approach worth considering is to begin by telling your brand's story. If your company was founded years ago, and craftsmanship and attention to detail runs in your blood, then nothing should stop you from appealing to emotions in your message.
Did you know? elfoMAP email list management tools, which include signup forms, landing pages, webinars, funnels, live chats, and many other useful features, make it easier to grow and manage your email list.
Now let's take a look at a few examples how popular brands welcome their new subscribers.
1. Alison
Here's a message sent by Alison to people who have just sign up for their courses.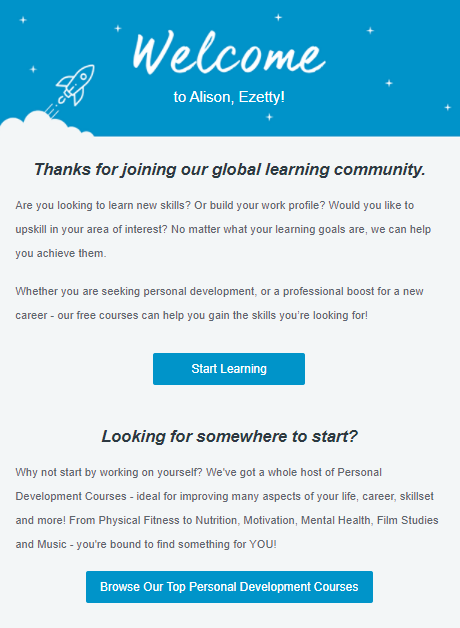 The email is brief and sweet. It features a simple headline that outlines what just happened and then jumps right to the reasons why you want to use their service. They also give a brief of why you should join their free online courses. There's also a single call-to-action (CTA) button that allows you to immediately log in and start join in their courses. The design is eye-catching, and the copy is clear and simple. They also listed out the top courses they offer in their site.
So, what does this email do? It sets the tone of the conversation, aims to entice you to sign up for the service and become addicted to it and also establishes a relationship, overcomes concerns, and prepares you for future communication.
Good effort for such a short and simple message.
2. HEADSPACE

This one is fun and playful newsletter by Headspace. The welcome email from Headspace starts with their mission statement. It explains how their service may help and support you in a healthier lifestyle with meditation.
What differentiates this email from others? First and foremost, there is the mission statement. They're not just selling their service to you but give you benefits on how to manage you daily routine to the fullest.
Then those are the most appropriate areas to begin. This strategy allows the firm to highlight their top products while also supporting you in beginning on a trip that will undoubtedly be pleasurable. They also insert a CTA button for consumers to use their products and services. Other than that, they also give a 10-day beginner's course to those who signed up.
The membership plan itself is amazing, as is the way it stands out. The supporting material allays users' fears while emphasizing the advantages they will get. When you add in the satisfaction guarantee, it's safe to assume that new members will subscribe to their services.
2. MAGIC SPOON

Just like the emails mentioned before, this welcome email message from Magic Spoon has a few strong elements.
The most important aspect is the headline, the subheader and the graphics. Once again, there is only one CTA button, which, in combination with the header and background graphics, underlines that this is more than a welcome email. It's the beginning of a beautiful journey. They also give a discount code for new customer and this is one of the best initiative to make your customer eager to try your products.
Finally, the beauty of this email is that it's brief and entertaining. Its design and language make you, the reader, feel as if you've just started your career as a local tour guide and are about to embark on an exciting journey.
Different levels of welcome emails
You've probably seen what other brands include in their welcome emails and jotted down some ideas for your own campaigns. Before you go, it's important to understand that there are various levels of onboarding campaigns. These campaigns often vary by the level of sophistication and complexity. You could divide them into 4 distinctive levels.
I. Single welcome email
Every new subscriber receives a personalized message. This is by far the most typical strategy you'll encounter. It's an excellent place to start, especially if you want to analyze the campaign's performance and use the data to segment your lists or send out subsequent emails. Even if it's only to follow up with a survey or an offer to follow you on social media, you should normally send repeated messages.
II. Welcome email series
A sequence of pre-programmed messages, each of which focuses on a specific topic (e.g., a product feature or the best-rated products) and includes a single CTA that encourages you to visit the website. This is a nice strategy because it is easy to implement and A/B test. You can also benefit from knowing who has opened or clicked on your emails. However, if you want to create segments or plan future communication, you'll have to do so manually in most cases.
III. Welcome email series with tagging and scoring
In a slightly more advanced technique to executing a welcome email campaign, tagging and scoring are used. You can use them to track your subscribers' participation automatically or learn more about them. You'll need to devise a lead scoring system ahead of time, as well as write down and share your tagging strategy with your team. However, once that's done, you'll be able to funnel your subscribers into multiple funnels and focus on other aspects of your business.
IV. Welcome email series with tagging, scoring, and behavior-triggered messages
The last level introduces a new variable to the equation: behavior-triggered messages. The goal is to provide each subscriber with a completely unique experience. You should be able to not only tag and score your subscribers based on their actions, such as clicks and opens, but also send them communications that represent their preferences. The drawback of this approach is that it requires more work upfront, e.g., to prepare the individual messages, automation workflows, lead scoring system, etc. The good news, however, is that you can expect high results from such campaigns. Timely and personalized emails are known to drive the highest user engagement. And marketing automation as a whole is an area which marketers will be focusing more on in the nearest future.
Don't be afraid to experiment
Onboarding email campaigns are just as effective as they are important. Given the response rate they generate, they should become an essential part of any marketing campaign that you're launching. At the same time, the welcome emails are simple to get started with. All you need is a couple of paragraphs of copy that show your gratitude and welcome the new subscribers to your list.
Add a link to your site, your best content, or top-reviewed products, and then follow up with a survey. You'll quickly notice that you've just run your first onboarding program. Then have a quick look at the engagement you've generated. You'll see that it's worth the effort. Don't be afraid to experiment! Every time you launch a new list or landing page, try out something new. Change the images, alter the copy, or the time of the send out.
If you're looking for an email builder that create creative email templates that is fun and give rewarding experience, be sure to sign up for a elfoMAP free trial.

Start a free 30-day trial of elfoMap