In the past 5 years, social media usage has skyrocketed to become one of the most popular online activities. The amount of social media content produced daily is staggering and only grows steadily as more people create a social media campaign online.
In 2019, the average daily social media usage of internet users worldwide amounted to 144 minutes per day, according to Statista.
People access social media for a variety of reasons. Many social media users tend to like finding funny or entertaining content to enjoy or sharing their own photos and videos with friends. In most cases, people generally use social media to connect and stay in touch with their audience.
Why Businesses Must Leverage More Social Media
Social media has a wide-reaching and significant impact on society, with social networking penetration constantly increasing across all regions. In 2020, over 3.6 billion people were using social media worldwide, a number projected to increase to almost 4.41 billion in 2025.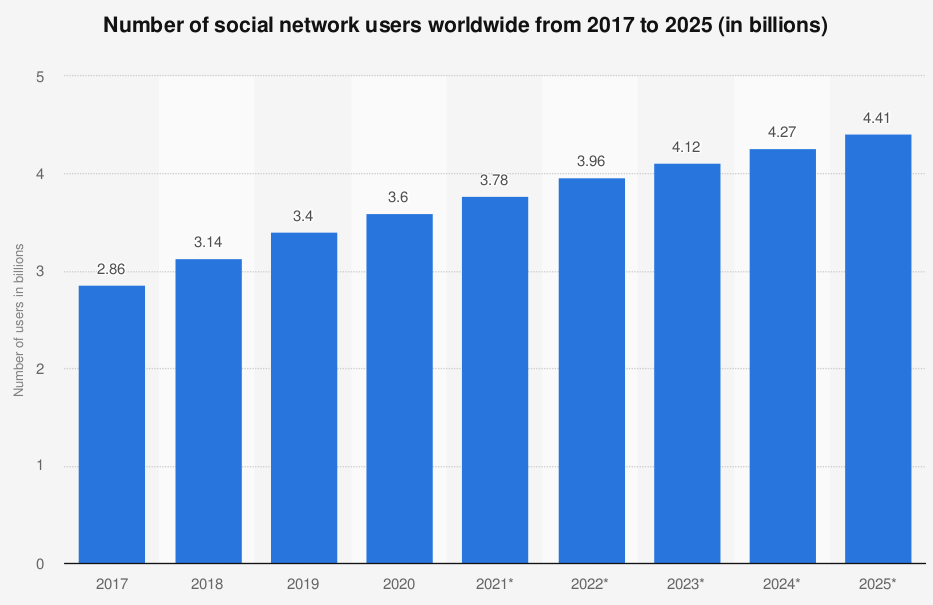 Infographic source: Statista
As lesser developed digital markets catch up with other regions, it's expected that the global social media usage rate will continue to rise due to infrastructure development and the availability of cheap mobile devices. In fact, most of social media's global growth is driven by the increasing usage of mobile devices.
Many companies are already leveraging their own social media channels to boost brand awareness and further their digital marketing strategies.
If you don't plan, execute, and measure your campaign strategically, you can waste a lot of time and money. If you send the wrong message, you could even damage your brand and lose potential customers.
To help you craft better social media campaigns that meet your business goals, we're going to take a look at 5 of the best social media campaigns in 2020. Let's dive straight in.
Great Social Media Campaign Examples to Inspire You for 2021
Successful social media marketing campaigns are planned strategically with images and videos, aimed towards a target audience and usually has measurable outcomes. Brands use a variety of social media platforms to run many of their campaigns, such as:
Facebook
Instagram
YouTube
Twitter
LinkedIn
TikTok
For example, here at elfo.com, we love to connect with our followers through Facebook, Instagram, LinkedIn, YouTube, and Twitter.
World Health Organisation (WHO) – Coronavirus Prevention Tips & Advice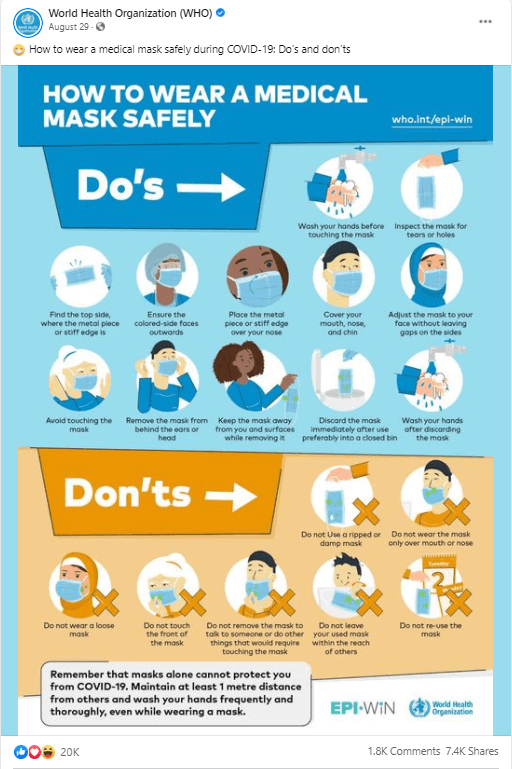 Image source: World Health Organisation on Facebook
Given the far-reaching impact of COVID-19 in 2020, many users' social media feeds have followed a similar pattern of providing coronavirus coverage and updates.
Social-savvy brands have learnt to adapt their content marketing strategies to this global crisis, but unfortunately, there have been several accounts that have knowingly or unintentionally spread false news and misinformation.
To counter this issue of unqualified information being shared with the public, the World Health Organization (WHO) rose to the challenge. They did not exactly have the control to prevent the spread of misinformation, but they worked to improve the context of ongoing public health efforts by using a digital marketing solution.
In partnership with an analytics company, the WHO leveraged 'social media listening' via machine learning to identify trending public health topics and create relevant timely responses.
By initiating real-time social media management, they analyzed 1.6 million pieces of content each week for subject and sentiment, tailoring their own content creation and calendar to address the most frequently discussed coronavirus questions and concerns.
Many of the resulting posts in the WHO's campaign were colourful and creative infographics conveying a few simple principles at a time.
Like the example seen above, these were designed to be shareable to encourage high levels of engagement amongst a wide-ranging age demographic.
Brands can learn a lot from the WHO's approach to social media strategy. Even when other accounts may reshare an organization's posts, a clean and consistent branding across social media ensures that the original organization's authoritative content is easy to spot.
Netflix – "Wanna Talk About It?" Instagram Stories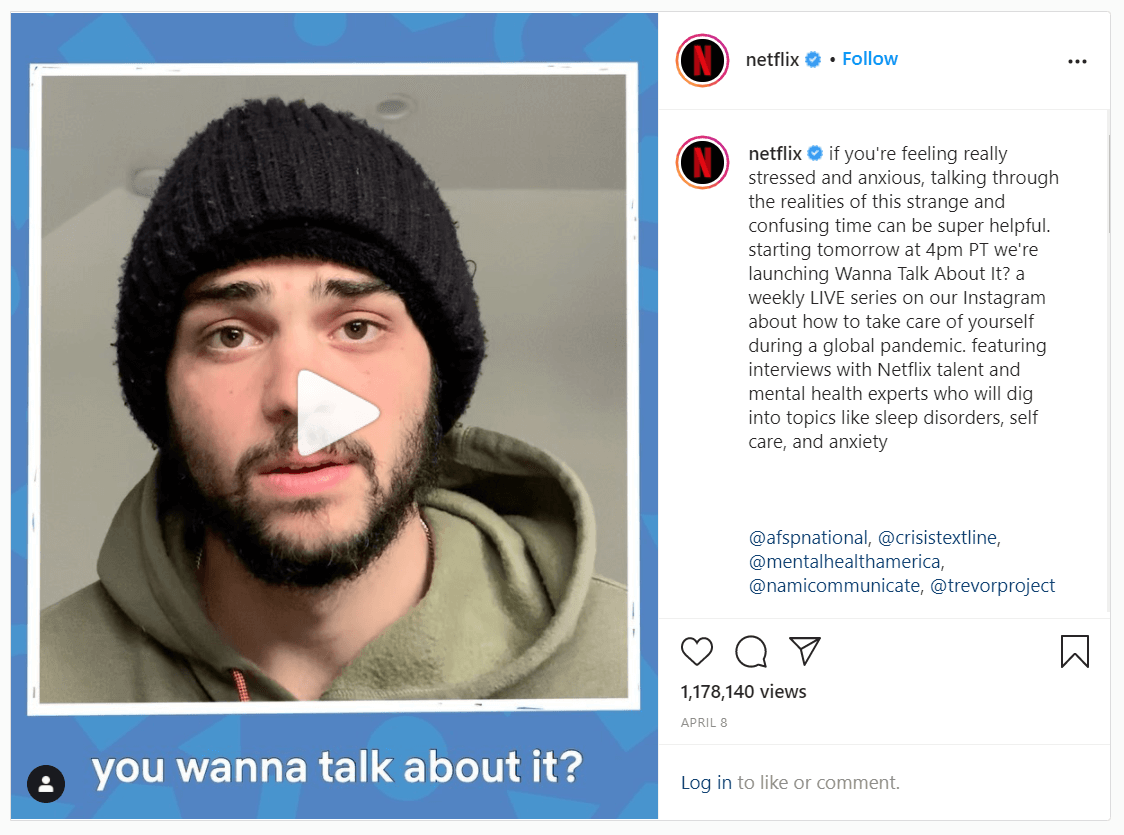 Image source: Netflix on Instagram
For an extraordinary year that has had everybody glued to their screens, a lot of social media marketing in 2020 revolved around the coronavirus pandemic that disrupted people's daily routines and livelihoods.
In a difficult crisis like this, Netflix took to social media to help people by connecting with their audience in a more meaningful way.
In an unexpected but thoughtful move, Netflix launched an Instagram Live series where people could get in touch with mental health experts to ask questions and share their problems.
For any brand aiming to build strong relationships with their customer base, connecting with people in such a personal way is good as it'll secure loyal customers long after the crisis has ended. This is a brilliant strategy for building goodwill and improving brand image, while also being helpful.
So, initiate meaningful conversations with your audience and foster long-term loyalty by forging stronger customer relationships. There are multiple ways to do this; it could either be a talk show, a live Q&A, or simply a conversation on a social media post.
The key is to connect with your audience and have two-way conversations.
Harvard Business Review (HBR) – Free Access to Business Resources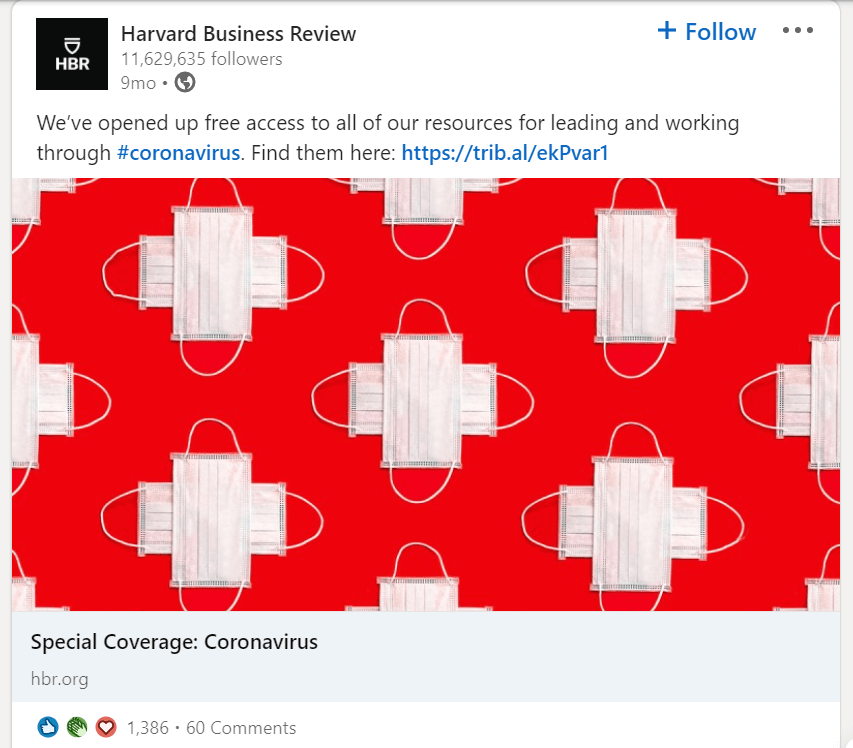 Image source: Harvard Business Review on LinkedIn
Harvard Business Review (HBR) understood that its main target audience of business leaders and owners was facing difficulties this year and followed a similar marketing strategy to what Netflix did.
They offered free access to resources that can help people deal with the difficult coronavirus situation. They used channels like LinkedIn to push this offer and drive traffic from their social media accounts to their website.
Tailoring your offer to a relevant need is a great way to attract new customers and get them on board with your platform. Once they join, the brand can then encourage these leads to get access to other resources by subscribing to their plans (at a later date).
Using simple and straightforward messaging, HBR did not need to beat around the bush for their promotion to stick. This kind of 'free-trial' strategy is normally used by media and publishing brands that offer paid content.
If you're running a product-based business, you can replicate this strategy by giving freebies to attract customers and then promoting other products to them.
Spotify – #2020Wrapped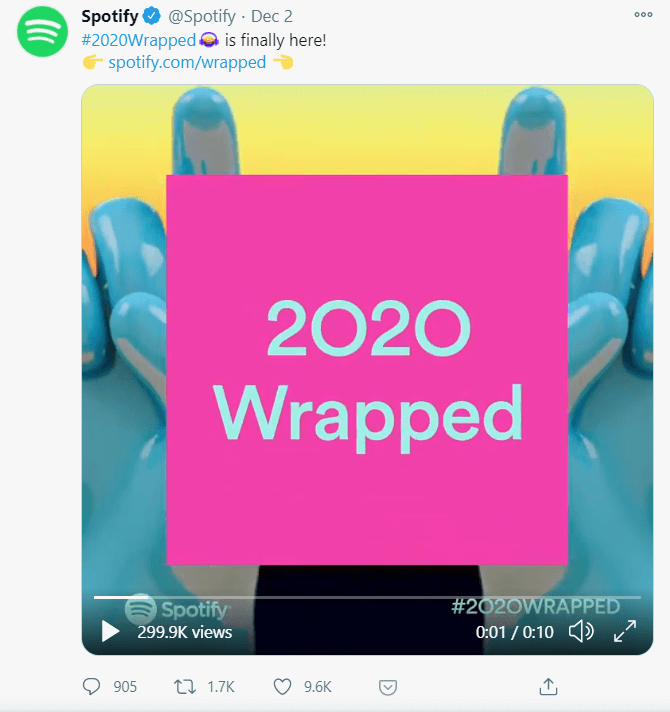 I
Image source: Spotify on Twitter
Before the pandemic, Spotify was already one of the most popular music streaming services in the world. When people were forced to stay at home for more than 3-quarters of this year, the app's usage increased significantly.
The #2020Wrapped campaign blew up, garnering great attention amongst people for its interesting data insights.
Spotify actually started this campaign back in 2017 when they launched 'Wrapped' to share year-end data with its customers. This feature showcased data related to the songs, albums, and podcasts people have been streaming.
Through data visualisation, you could see your listening history throughout the year, covering artists and songs streamed, as well as how many minutes were spent using Spotify this year. It could also tell you how many new artists you discovered and your most listened-to genres.
The personalised data was compelling stuff, but the social media marketing campaign boosted its shareability because people wanted to showcase their tastes and personality.
Arguably, the best aspect of the whole campaign was that Spotify encouraged users to share their data across social media, thus in turn helping to create a flood of user-generated content that got people talking about music and Spotify. Half of Spotify's marketing efforts were literally done for them!
By enabling a feature that could be personalized and shared on every social platform, Spotify provided a way for their users to relate, connect, and compare with each other.
If you want to boost brand awareness and make more sales by showing people exactly how they'll benefit from using your service, Spotify's campaign of showcasing and sharing personalized data is a smart way of doing it.
Procter & Gamble (P&G) – #DistanceDance TikTok Videos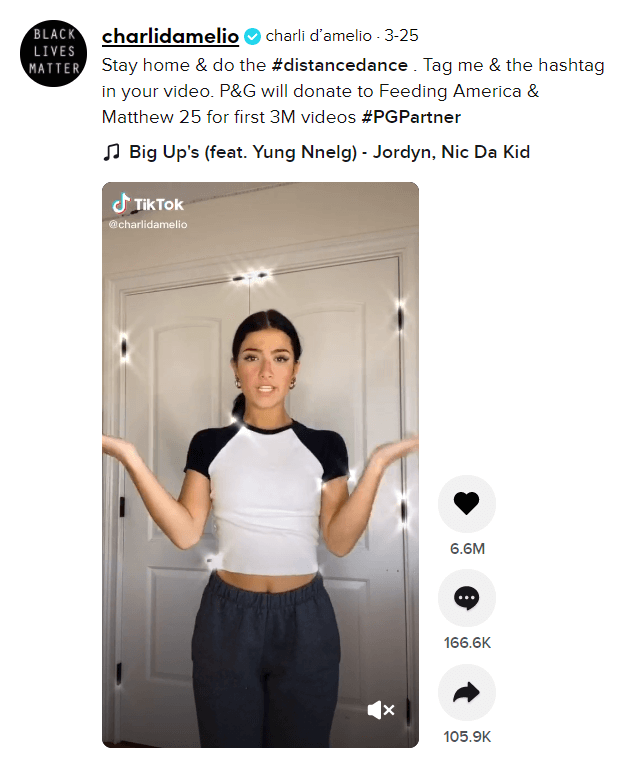 Image source: charlidamelio on TikTok
Back in March 2020 when most of the world started entering lockdown, Procter & Gamble did something unexpected and partnered with American TikTok influencer, Charli D'Amelio, to create a social media campaign called #DistanceDance.
Yes, the huge corporation behind many household brands, including Gillette, Head & Shoulders, and Tide, decided to run a TikTok campaign of dance videos. This sounds like a shot in the dark, but the campaign's main intent was to promote a good program.
The idea was simple: beyond encouraging user-generated content from quarantined people to video themselves doing a silly dance at home, Procter & Gamble committed to donating to Feeding America and Matthew25 for every single one of the first 3,000,000 video submissions.
The end result of the campaign was a massive success. Procter & Gamble received millions of videos from regular users at home, and even celebrities and sports stars who joined in!
What encouraged such high audience engagement was the fact that there was nothing complicated about the challenge. Users just had to do a simple video recording of themselves dancing as creatively as they wanted on TikTok and use the campaign hashtag when they shared.
Procter & Gamble understood what made TikTok 2019's third most downloaded app: the viral nature of short dance videos and people's interest in original choreography. They also understood the power of leveraging popular internet influencers to 'sell' a social media campaign.
If you can collaborate with a relevant influencer (or even an up-and-coming platform), your next social media campaign could strike gold.
Takeaways for 2021 Planning
Creating high-quality social media campaigns can be a tough process, but the potential of social media is limitless.
In fact, it's getting harder to pin down what works consistently well because the definition of "high quality" is really subjective. In one context, it might mean gathering and sharing all kinds of user-generated content. In another, it could mean summarizing technical information into a shareable infographic.
In an ever-evolving digital landscape, brands have to figure out how to raise expectations around what their social media campaigns can and should accomplish.
When choosing which social media campaigns to highlight, we decided to feature those that:
Offered a truly distinctive, alternate take on a familiar brand, product, or service
Expressed values and tactfully addressed concerns that matter to their audience
Thoughtfully crafted memorable on-screen experiences
Brands looking to boost their social media results should consider using web and social media analytics to understand the types of content their target audience responds well to. From there, it will become easier to determine where and how your social media marketing campaigns will fit in.