For all businesses, the brand identity is critical in distinguishing themselves from others. Brand identity is not necessarily aesthetic but encompasses everything from company values, approved imagery, color scheme, and even copywriting guidelines.  
In the current modern culture of innovation and improvements, elfo strives to consistently develop our brand to accurately reflect our values, services, and the talented individuals that make up the team. After 5 years in business, the 'elfo-lution' has resulted in strong visual identity, a competitive product line-up, and a formidable team that has worked with over 200 partners.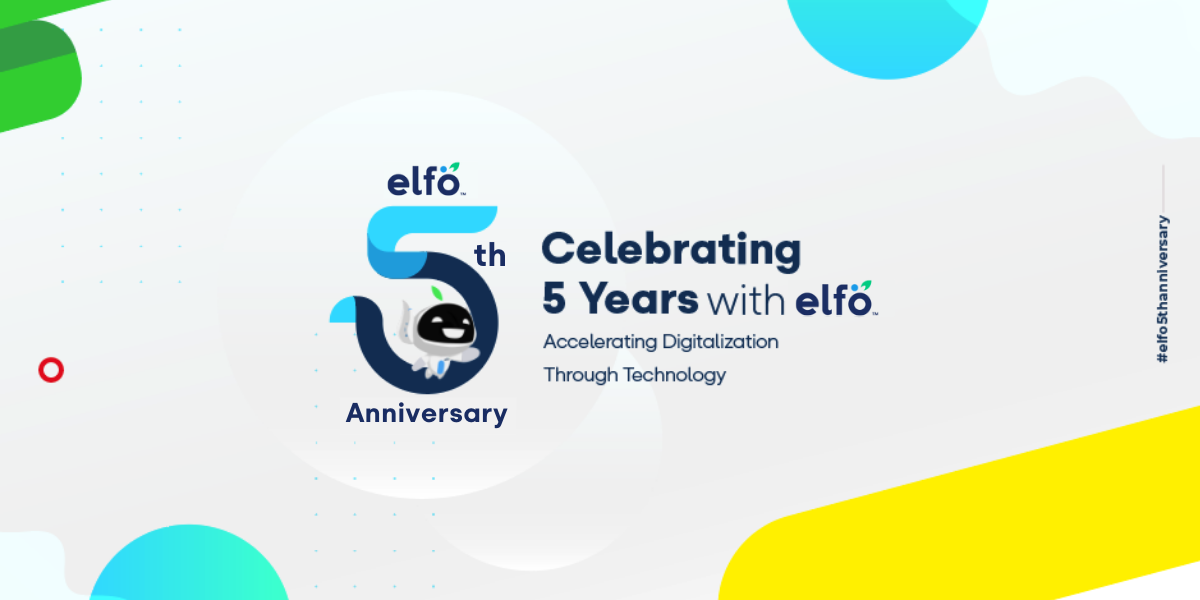 This year, as we crossed our 5th anniversary, the elfo team took the opportunity to refine our branding identity to properly reflect our journey, redefining our elfo–lution. As we embarked on our revamping of our corporate identity design (CID), we looked at elfo's history and focused on what defines us. 
OUR IDENTITY
With strong branding, potential customers will be able to easily identify a company's values and ideals, allowing them to choose their provider with ease. With a stronger bond between business and customers, companies can hope to foster a long-term relationship and develop strong brand loyalty among their customers.  
According to Stackla, 88% of consumers consider authenticity as the key factor when supporting businesses. Most consumers expect businesses to focus on more than just revenue, such as corporate social responsibility and the values espoused through the services and products offered.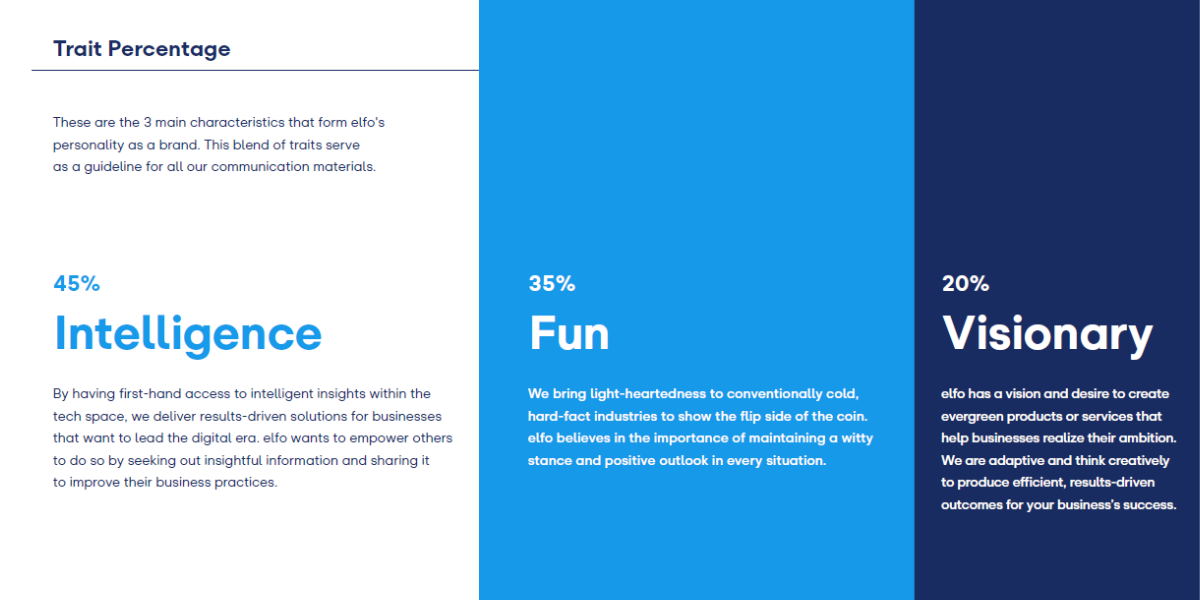 With this in mind, elfo's core values are defined clearly on our website, favoring passion, innovation, accountability, and growth. Since inception, elfo has stood by the belief that clients should be able to rely on one agency to handle all of its digital marketing needs, and this is reflected in our ever-growing list of products and services.  
All this and more are communicated through the guidelines developed in the newest CID, highlighting the best ways to display elfo's DNA via copywriting and imagery. While elfo remains professional and innovative, the team maintains a sense of light-heartedness and forward thinking to reflect the young and creative team behind the business. 
OUR IMAGERY
Identifying the company imagery will not only define the guidelines around the content produced but also provide visuals that customers can identify with. Brands who have a target market will often build their visuals based on the people they are marketing to.  
As elfo has grown, our team has evolved into a diverse group of young, energetic, and talented individuals. Ensuring that our imagery reflects the values and vibe of the team was critical when revising our CID. Thus, elfo's distinctive theme was developed with minimalistic elements and a vibrant design. Visual aids such as stock photos must be clean and clear without being overly professional.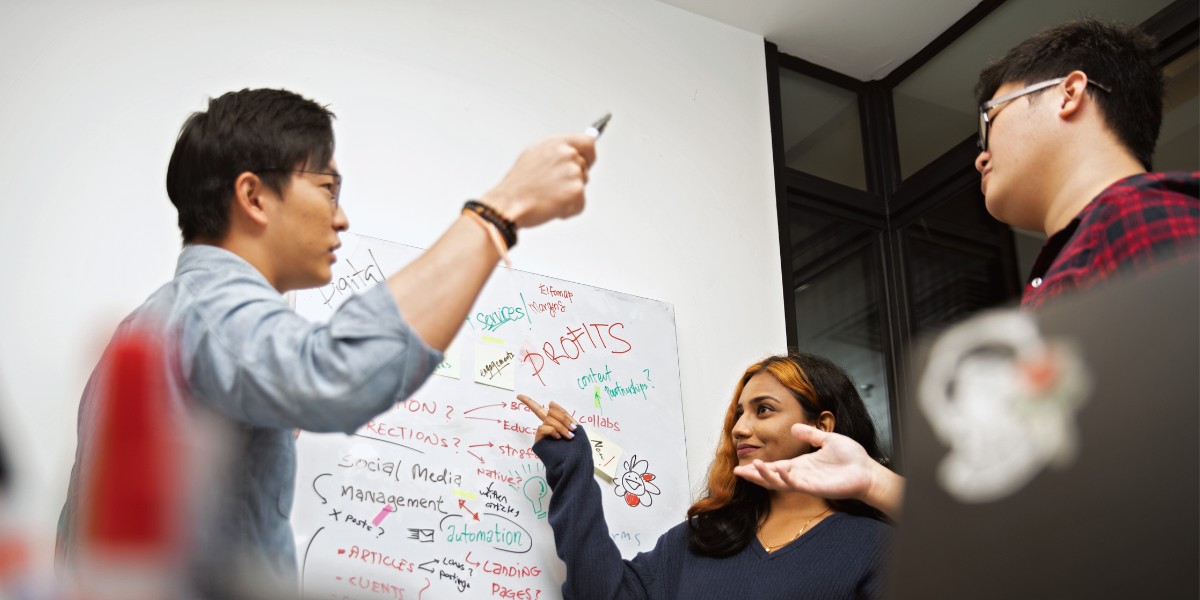 On average, it takes 5-7 impressions for consumers to recognize a brand. Thus, it is imperative for branding to be consistent and distinctive to have a lasting impression on potential consumers. From visual usage to a recognizable color palette, building the distinct imagery will not only develop familiarity with consumers, but also among the industry players and partners. 
elfo has always maintained a clean but colorful aesthetic design with the sleek and simplistic designs meant to accentuate the brand's vibrant and innovative environment. On top of that, the team decided to refine elfo's existing color scheme to a lighter, pastel variant that permeates an uplifting mood and is visually appealing on digital screens. 
It's always a great idea to maintain a color scheme unique to the brand with many fantastic examples such as fast-food franchise McDonald's red and yellow or fashion retailer Uniqlo's bright red. By using a signature color, consumers are 80% more likely to recognize your brand. In combination with the proper visual aesthetic and the set copywriting style, all these elements will form the brand's unique identity, setting it apart from all the others in the market. 
OUR MASCOT
Lastly, a core part of elfo's branding, the mascot, was refined with an identity that makes it distinct and personable. Now with an official name, elfoBot got its own special look with a compelling backstory developed to give it the purpose it was lacking.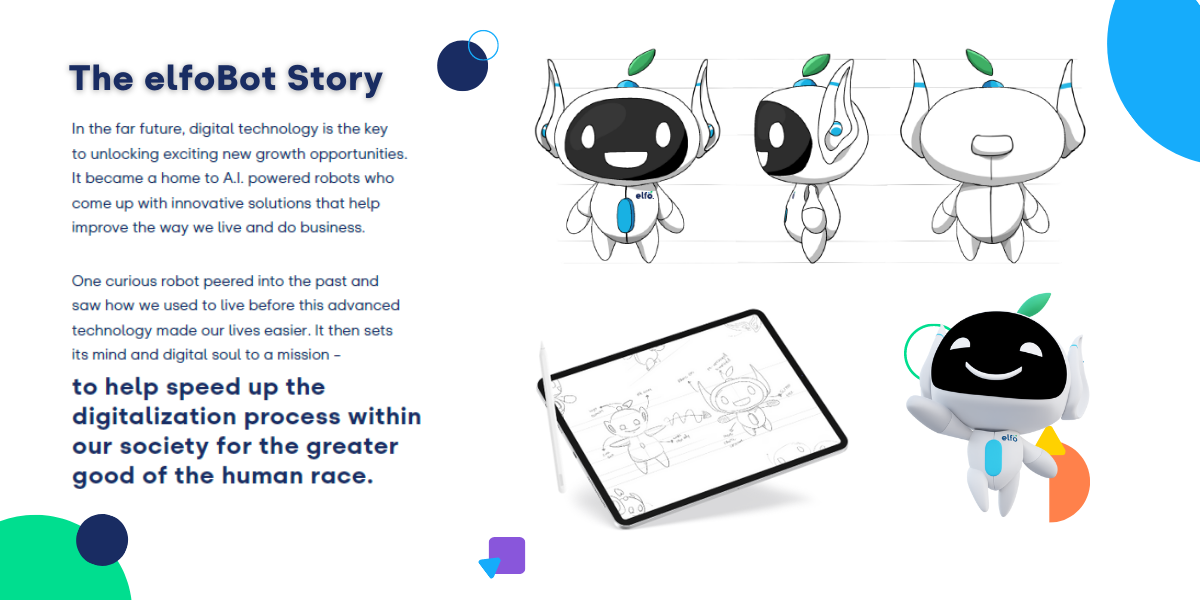 According to research, profits can be increased by up to 41% with the utilization of brand mascots or characters. Those without them only had a chance of 29.7% to increase their market gain. Having an official mascot will not only provide the unique branding needed to distinguish the company from others, but it also creates a personification of the brand for consumers to connect to. 
The background behind elfoBot was developed, officially detailing its origin story and motivations that drove it become elfo's official mascot. Essentially, it describes what elfo as a brand aims to achieve in the digital marketing sphere. With the goal of pushing the limits of technology in the pursuit of digitalization and innovation, elfoBot is essentially all of elfo's values and goals personified. elfoBot is all of us. 
THE COMPLETE PACKAGE
Combined together, the elements discussed contribute to the package that encompasses your company brand. As long as the rules and guidelines defined are followed consistently, the brand's image will be reinforced in potential customers' headspaces for easier recall and potentially higher chance of conversion. 
With elfo's new refined CID, the team will have the proper tools and understanding to fully embrace elfo's identity in everything they do. elfo's combination of performant digital marketing services and cutting-edge marketing platforms solidified it as a competitive MarTech and AdTech solutions provider in Malaysia. 
Be sure to keep updated with elfo's journey by following us on LinkedIn, Instagram, Facebook and, YouTube.